Chris Maguire was in fine form for Lincoln City as he scored a hat-trick to lead his team toan impressive 3-1 win at former club Sunderland. The former Sunderland star came back to haunt the Black Cats as he put a dent in their League One title aspirations and even celebrated in the face of Lee Johnson, the Sunderland manager.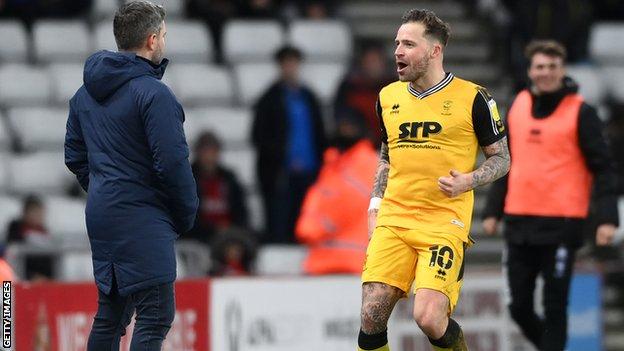 Lincoln City winger Maguire made 125 appearances for the Black Cats during his three-year spell at the club before he was allowed to leave on a free transfer despite being a regular in the starting XI for the most part of his time at the Stadium of Light and the player clearly still has an issue with the decision going by the way he celebrated in front of the Sunderland dugout during the league encounter played at the Stadium of Light on Tuesday night.
Maguire delivered the best kind of revenge when he scored the opening goal of the game and made his way to celebrate in front of beleaguered Sunderland manager Lee Johnson. He was not given a start by Johnson at Sunderland from December 2020 until last summer despite being fit as fromMarch. He was not given a chance in the starting XI for the final three months of last season. As a matter of fact, he was given just 85 minutes in the final 11 league games from last season.
Lincoln City took the lead through Maguire who produced a half-volley from the rebound after the strike from HakeemAdelakin was blocked. He wheeled away in celebration alongside his teammates to taunt Johnson in his technical area. Maguire added a second goal from the penalty spot before Ross Stewart pulled one back for the hosts thus paving the way for Maguire to seal the win for his team with his treble goal.